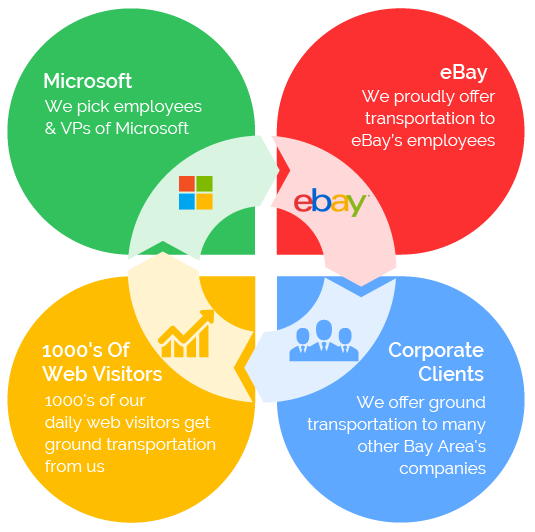 Concord Rental for Affiliates
Hit the roads with us for a seamless hiring experience. We at Limo service concord take pride in providing the best ground transportation facilities to our clients across the globe. Our enthusiastic and passionate team would connect you with leading operators in the Bay Area, San Francisco, who can get you the latest and safest fleet to get the job done. We are looking for quality operators, and our agents can get you the best deal either by getting in touch with us directly or using our online booking portal.
Send us a sample query, and we will assure you to sit back and relax while we get your requirements fulfilled and start working with you.

API
We offer API solutions, where your website can in-directly communicate with our database to give your customers access to book transportation all over the world.

White Label iFrame
If you do not have developers that can integrate with our API, we can offer I-frame solutions for your customers to book by coming to our website, but it will appear as if they are still on your website.

Travel Agents
We offer handsome commissions to Travel agents, and travel agents can directly book online for their customers.

Helpful
Training
You'll be trained by our technical experts on how to use our portal to book jobs for your clients

High average
Job Value
We believe in growing together, our commission rates are more than satisfying to make you keep working with us!

Advanced scheduled &
On-Demand Work
We work on a motto of 'Getting the job done!'. Online or offline, we're always there for your clients.
Testimonials from our Affiliates
I for many jobs for limos, SUVs, & mini-buses from Limo Service Concord. At times, when our customers wanted to fly to LAX or EWR, we simply gave our customers the option to book through our website, as we in-directly connected with their website.
– Sunny Singh, Lavish Limousine
From SFO airport trips to wine tours to Napa, we've always received good business from limo service Concord.
– Juan Sergio, Kings Limo
# 1 website to get transportation for our customers going to JFK & LAX. Limo Service Concord always has us covered.
– David Bitton, Platinum Limousine
For quality CPUC licensed companies
It's simple to get started

Signup Online
Submit a simple form to send us your company's Resume

Upload documents &
your rates
We will ask you to upload some licensing documents & update your rates

We'll call to show you
the process
One of our agents will call you how to receive business from us or book out-of-area transportation for your customers.