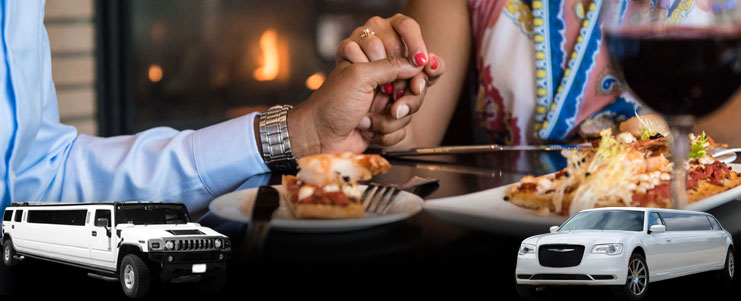 Valentine's Day is just around the corner but you are still confused by the never-ending choices. Celebrate Valentine's Day in Concord sitting behind the best Valentine's Day Limo Service Concord arranged by Concord Limo Service. Concord offers some of the phenomenal ways that make your special day fun, wild, and memorable. This year, Valentine's Day is on a Friday which means you can spend a wonderful evening with your special someone in Concord.
Concord is surrounded by engrossed views, distinctive restaurants, notable concerts, and overwhelming events to suit your fancy. Intensify your Valentine's Day Spirit with Concord Limo Service which is committed to deliver the highest degree of distinction, class, safety, and integrity. We, at Concord Limo Service, specialize in maintaining a fleet that features the latest models of Stretch Limousines, Black Sedans, and Executive SUVs, Vans, Buses, and Limo Buses for all kinds of leisure affairs. These Limousines are equipped with plush interiors and amenities that lift up your Valentine's Day spirit. Our 24/7 customer staff and well-trained chauffeurs take a genuine interest in meeting customers' tastes and preferences. These are put together to perfectly build up your Valentine's Day worth remembering.
Concord Limo Service has surfaced Valentine's Day Things-to-do Concord to surprise your loved one.
Impressive events
Each year, Concord is known to host some of the best Valentine's Day events which make this city suitable for romantic getaways. Save the date for DVOS Valentine's Show and Sale, Rainbow Loves You! Valentine's Day Giveaways!, Valentine's: BullyWest, Sabertooth Unicord Friends With Pills, The Love Games 2020, Galentines Day Flower Arranging Workshop, and Post-Valentine's Party. These events will certainly make this Valentine's Day unforgettable.
Allow our 24/7 customer staff and chauffeurs to assist in planning your line of travel, multiple pick-ups, drop-offs, and special requests. These leave you to enjoy quality time with your loved one.
Paradise for Shopping spree
Shopping is another mind-blowing way that creates the perfect romantic experience. Concord offers the best shopping locations that let your loved one indulge in. Some of the best shopping locations in Concord are Sunvalley Shopping Center, Clayton Valley Shopping Center, The Veranda, Oak Grove Plaza, Broadway Plaza, Downtown Pleasant Hill, Willows Shopping Center, Pleasant Hill Shopping Center, Countrywood Shopping Center, and Walnut Creek Downtown.
Add sophistication and elegance to whatever you're planning with Concord Limo Service with an extensive fleet of Limousines, Party Bus Service, and Exotic Car Rentals, excellent customer support, courteous chauffeurs, reliability, and competitive rates. These vehicles are available at inclusive rates that let you discover how affordable luxury travel can be.
Culinary Adventure
Be tourists for the day and enjoy the best food tours in Concord, Ca. Enjoy best Food Tours in Concord, Ca like Avital Tours, Explore Uncharted, Local Food Adventures, Edible Excursions, Sonoma Food & Wine Tour, Velocipede Tours, eXtraordinary Tour Services, Epicurean Exchange Culinary Travel, and A Taste of SF. These Food Tours have a perfect treat for the taste buds in store.
At Limo Service Concord, all you can expect 24/7 customer support before and after the events while you are in safe hands with our well-trained chauffeurs.
Concerts & Shows
It's almost that time of the year when you can demonstrate your love in the most classic way. Certain places that deserve your attention are like Brenden Theatre, Lesher Center for the Arts, Concord Pavilion, California Magic Dinner Theatre, Willows Theatre, California Symphony, Impulse Symphony, and Martinez Campbell Theater. So, whether you're gearing for an elegant dinner or cruising to a big concert, there's no better way to make your arrival on-time and in-style than Limo Service Concord. You can simply rely on our knowledgeable staff and chauffeurs who are well-versed with the region's most elegant restaurants and uptown bars.
Outdoor Activities
This year, make new memories with your loved one. Concord has Adrenaline & Extreme Tours, Air Tours, and Hiking Tours with a focus on romantic interests. Explore activities like Contra Costa Canal Trail, Bay Area Ski Bus, All Outdoor California Whitewater Rafting-Day Trips, Diablo Creek Golf Course, Diablo Rock Gym, Boundary Oak Golf Course, Buchanan Fields Golf Course, Martinez Regional Shoreline, Lafayette Reservoir, and much more.
If you are planning for a cross-country trip, allow our premium airport transportation service to take you on best-in-class Sedan, SUV or Towncar to and from Buchanan Field Airport. Our impeccable Airport Limousine Service makes your transportation private without any distractions or stress. Enjoy your Valentine's Day with the best selections of Exotic Car Rentals which include the most sought-after Lamborghini Gallardo, Bentley Continental GT, Lamborghini Gallardo, Ferrari F-430, and much more along with advanced features.
You can book our Limousine Service for Valentine's Day online or you can directly speak to our customer reps for the availability of vehicles, info, and supersaver exclusive package deals that allow you to save the maximum. In this festival of candy and cupids, make sure you hire Concord Limo Service to take you around town and nearby attractions where each client is treated like royalty.